The Flow Cytometry Research Group (FCRG) focuses on flow cytometry-related projects. In many experimental workflows, cells sorted in a flow cytometry core are further analyzed in other cores. Currently, the RG emphasizes exploration of the various effects that cell sorting may or may not have on sorted material and thus the effects on downstream analysis by other shared facilities.
CURRENT STUDY
DROP DELAY
It is known that correct drop delay calibration and accurate sort recovery is always critical when sorting. The FCRG's current study will test drop delay settings in sorters with options to set drop delay manually and those with fully automated, non-adjustable drop delay set-up. Data collected will help to determine the accuracy of drop delay and sort recovery and purity for both types of sorters, and help serve as a guide for sort operators to assist in determining drop delay accuracy.

Poster presented at 2023 CYTO and ABRF Annual Meetings: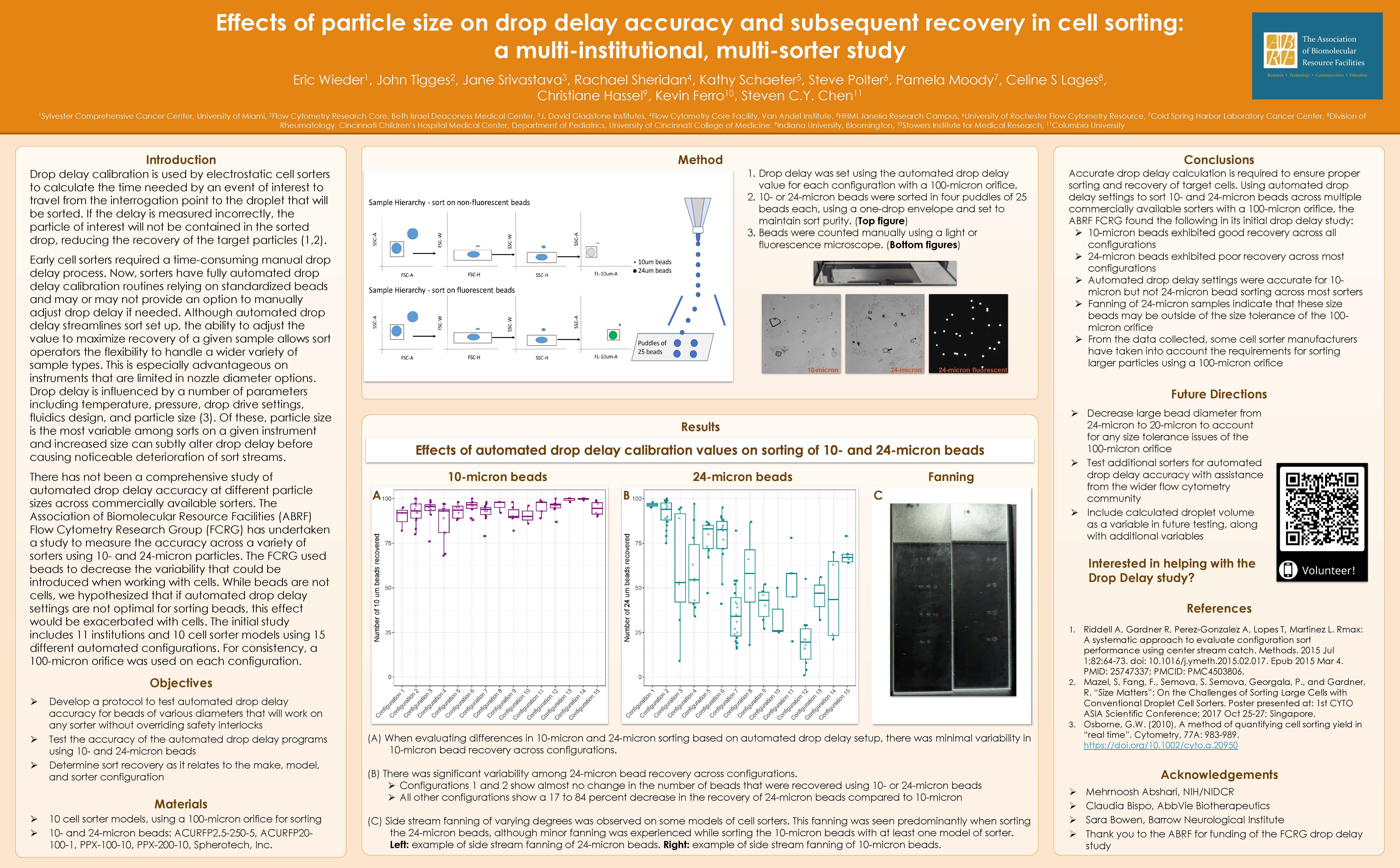 PAST STUDIES/PROJECTS
FCRG Community Survey (2021)
GENE EXPRESSION AFTER SORTING
The first study proposed by the group investigated the impact of cell sorting on gene expression. Variables such as sorting versus no sorting, high versus low pressure, and the presence versus absence of UV light were analyzed with RNA-seq and microarray in Jurkat cells, primary B cells, and mouse ES cells. A manuscript with this study's results is being prepared.
SORTER CLEANLINESS
Cytometry facilities around the world were surveyed regarding their sorter cleaning practices. A subset of facilities submitted samples for testing. Most sorters had significant endotoxin contamination, but little to no RNase. Bacterial concentrations ranged from none to substantial. There was no correlation found between sorter cleanliness and any surveyed facility variables, including sorter age, cleaning practices, date of last PM, sheath source, or known recent contamination. The results will be published in combination with the endotoxin removal results.
ENDOTOXIN REMOVAL
Since a number of sorters assayed in the sorter cleanliness study were contaminated with endotoxin, effectiveness of an H2O2 cleaning procedure was tested to assess removal of the endotoxin from the sorters. Sheath samples collected before and after cleaning were tested with a LAL quantitation kit and it was determined that the contamination was only partially mitigated. Also, the endotoxin levels reached pre-cleaning levels within a few weeks of the sterilization. The results will be published alongside the sorter cleanliness survey results.