Recipients of merit are selected each year to receive scholarships to partially defray the costs of attending the ABRF annual conference. The funds are awarded to scientists, technologists and administrators working in shared resource laboratories who have made significant contributions to their institutional shared resource facility or to the ABRF.  Recipients are acknowledged during the Award Session at the annual meeting. 

The ABRF Founders' Award was created, and is made possible, by Ron Niece, a long-standing ABRF member, to provide core staff the opportunity to help advance their careers by engaging and participating in the ABRF meeting.  

For more information about ABRF Annual Meeting Scholarships, click here.
Scholarship Recipients
2022
Kristina Belanger, Harvard University
Kelly Cribari, Harvard University 
Kaitlyn Petentler, Stowers Institute for Medical Research
Mystera Samuelson, University of Nebraska Medical Center
Shanmugapriya Selvaraj, NYU Langone Medical Center
Founder's Award Recipient:

Kelly Cribari, Harvard University 
2021 
Molly Zeller, University of Wisconsin, Madison
2020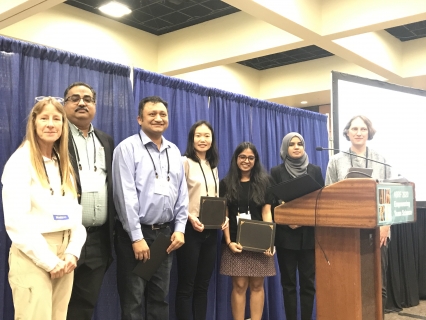 Srinivas Sistla, Virginia Commonwealth Universty, USA 
Pei Liu, University of Missouri, USA
Vikas Kumar, University of Nebraska Medical Center, USA
Anne-Marie Girard-Pohjanpelto, Oregon State University, USA
Kratika Singhal, Stanford University, USA


2020 Founders' Award Recipients:
Pei Liu, 

University of Missouri-Columbia

Kratika Singhal, Stanford University
2019 
Yamna Khurshid, University of Karachi; Karachi, Pakistan
Medicharla Jagannadham, Centre for Cellular and Molecular Biology; Hyderabad, India
Nandhini Raman, University of Californa, San Francisco; San Francisco, California
Ravi Ranjan, University of Massachusetts; Amherst, Massachusetts

2018 
Selest El-Nashef, Western Michigan University; Kalamazoo, Michigan
Matthew Iozzio, Rutgers University; New Brunswick, New Jersey
Joanna Kirkpatrick, Leibniz Institute on Aging - Fritz Lipmann Institute; Jena, Germany
Diane Miller, BC Cancer Genome Sciences Centre; Vancouver, British Columbia, Canada
Sandeep Misra, University of Mississippi; Oxford, Mississippi
Valerie Villeneuve, CHU Sainte-Justine Research Center; Montreal, Quebec, Canada
Stephon Void, Claflin University; Orangeburg, South Carolina
Mingyi Zhou, Jilin University; Changchun, China
2017 
Charlene Coleman, University of Massachusetts, Amherst
Johanna Dela Cruz, Cornell University; Ithaca, New York
Kaitlin Groglio, Harvard University; Cambridge, Massachusetts
Mallary Hoidal, Florida International University; Miami, Florida
Jessica Hornick, Northwestern University; Evanston, Illinois
Nicolas Loof, UT Southwestern; Dallas, Texas
Zachary Niziolek, Harvard University; Cambridge, Massachusetts
Michael Peterson, Stowers Institute for Medical Research; Kansas City, Missouri
Corey Reynolds; Baylor College of Medicine; Houston, Texas
Tanya Santos, Beth Israel Deaconess Medical Center; Boston, Massachusetts
Elizabeth Sergison, Dartmouth College; Hanover, New Hampshire
Nelson Vila-Santana, University of Vermont; Burlington, Vermont
2016
SUPPORT PROVIDED BY: BD BIOSCIENCES, BIORESCO, UNIVERSITY OF MARYLAND SCHOOL OF MEDICINE, MARLENE AND STEWART GREENBAUM CANCER CENTER, UNIVERSITY OF MARYLAND SCHOOL OF MEDICINE, FLUIDIGM, and IDT
Debbie Adam, Michael Smith Laboratories, Vancouver, BC, Canada
Meredith Calvert, Gladstone Institutes; San Francisco, California
Diana Cardero, Florida International University; Miami, Florida
Kym Delventhal, Stowers Institute for Medical Research; Kansas City, Missouri
Melodi Jayne, University of Oregon; Eugene, Oregon
Elke Küster-Schöck, McGill University; Montreal, Quebec, Canada
Ken McGrath, Australian Genome Research Facility Ltd; Queensland, Australia
E. Michael Meyer, University of Pittsburgh; Pittsburgh, Pennsylvania
Babu Ponnusamy, Centre for Cellular and Molecular Platforms; Bangalore, India
Summer Thompson, University of Delaware; Newark, Delaware
2015 Awardees
SUPPORT PROVIDED BY ABRF AND SEQGEN
Andrew Box, Stowers Institute for Medical Research, Kansas City, MO
Philip Hexley, University of Nebraska Medical Center, Omaha, NE
Ernest Meyer, University of Pittsburgh Cancer Institute, Pittsburgh, PA
Katia Sol-Church, Nemours Alfred I. DuPont Hospital for Children, Wilmington, DE
Michael Zianni,The Ohio State University, Columbus, OH

2014 Awardees
SUPPORT PROVIDED BY ABRF, NEW ENGLAND BIOLABS AND DR. RONALD NIECE
Matthew Cochran, University of Rochester, Rochester, NY
Karin Green, University of Massachusetts Medical School, Worcester, MA
Jennifer Holbrook, Nemours Alfred I. DuPont Hospital for Children, Wilmington, DE
Guillame Lesage, McGill University, Montreal, QC, Canada
Chi-Hao Luan, Northwestern University Chicago, IL
Michael Naldrett, Donald Danforth Plant Science Center, St. Louis, MO
Caroline Vergette, Ottawa Hospital Research Institute, Ottawa, ON, Canada

2013 Awardees
SUPPORT PROVIDED BY ABRF
Don A. Baldwin, Pathonomics LLC, Philadelphia, PA

Carol Bayles, Cornell University, Ithaca, NY

Liping Gu, South Dakota State University, Brookings, SD

Ana Kuzmin, University of British Columbia, Vancouver, BC, Canada

Claudius Mundoma, Florida State University, Tallahassee, FL

Natalia Reyero, Mississippi State University, Mississippi State, MS

Laurey Steinke, University of Nebraska Medical Center, Omaha, NE

Kaye Thomas, The Rockefeller University, New York, NY

2012 Awardees
SUPPORT PROVIDED BY ABRF
J. Russ Carmical, University of Texas Medical Branch (UTMB), Galveston, TX

Allis Chien, Stanford University, Stanford, CA

Shi Jian-Ding, University of Nebraska Medical Center, Omaha, NE

Phillip Kim, Fox Chase Cancer Center, Philadelphia, PA

Brewster Kingham, University of Delaware, Newark, DE

Judith Lacoste, McGill University, Montreal, QC,

Yasamin Miller, Cornell University, Ithaca, NY

Margaret Robertson

, Ernest Gallo Clinic and Research Center, UCSF, Emeryville, CA

Taslimarif Saiyed

, National Centre for Biological Sciences (NCBS-TIFR), Bangalore, India

John C. Tigges

, Beth Israel Deaconess Medical Center/Harvard Stem Cell Institute, Boston, MA

2011 Awardees
SUPPORT PROVIDED BY ABRF
Pamela Scott Adams, Trudeau Institute, Saranac Lake, NY
Michelle Cilia, USDA. Ithaca, NY
Elke Küster-Schöck, McGill University. Montreal, QC, Canada
Anoja Perera, Stowers Institute for Medical Research, Kansas City, MO
S. Caprice Rosato, Oregon State University, Corvallis, OR
Taslimarif Saiyed, NCBS-TIFR. Bangalore, India
Laurence Sandberg, Loma Lind University, Loma Linda, CA
Toni Whistler, Centers for Disease Control and Prevention, Atlanta, GA

2010 Awardees
SUPPORT PROVIDED BY ABRF AND LIFE TECHNOLOGIES
Sophie Alvarez, Donald Danforth Plant Science Center, St. Louis, MO
Joseph Boland, National Cancer Institute, Gaithersburg, MD
Amrita Cheema, Georgetown University, Washington, DC
Karl Mechtler, Reseach Institute of Molecular Pathology (IMP), Vienna, Austria
Gerhard Saalbach, John Innes Centre, Norfolk, United Kingdom
Scott Shaffer, University of Washington, Seattle, WA
Bo Xu, University of Texas Medical Branch, Galveston, TX

2009 Awardees
SUPPORT PROVIDED BY ABRF AND THERMO FISHER

2008 Awardees
SUPPORT PROVIDED BY ABRF AND THERMO FISHER
Rama Dey-Rao, Roswell Park Cancer Institute, Buffalo, NY
James Hadfield, Cancer Research UK, Cambridge, United Kingdom
Don Kristt, Rabin Medical Center, Petach Tikvah, Israel
Christopher Martiniuk, University of Florida, Gainesville, FL
Karl Metchtler, IMP-IMBA, Vienna, Austria
Susan Newman, Pennington Biomedical Research Center, Baton Rouge, LA
Antonio Pinto, University of Virginia, Charlottesville, VA
Robert Salzler, Duke Human Vaccine Institute, Durham, NC
Solange Serrano, Instituto Butantan Sao Paulo, Sao Paulo, Brazil
Kristofor Webb, University of California at Los Angeles, Los Angeles, CA

2007 Awardees
SUPPORT PROVIDED BY ABRF AND THERMO ELECTRON
Megan Brown, Vermont Cancer Center, Burlington, VT
Rene Brunisholz, Functional Genomics Center, Zurich, Switzerland
Christina Buchanan, University of Auckland, Auckland, New Zealand
Jayson Falkner, University of Michigan, Ann Arbor, MI
Jennifer Holbrook, A.I. DuPont Hospital of Children, Wilmington, DE
Karen Jonscher, University of Colorado, Denver, CO
Brewster Kingham, University of Delaware, Newark, DE
Jochen Peter, Steinbeis Center for Cell Chip Technologies, Munich, Germany
Vitaliy Starosta, University of Texas Medical Branch, Galveston, TX
Laurey Steinke, Nebraska Medical Center, Omaha, NE
Glenis Wiebe, Edmonton, Canada

2006 Awardees
SUPPORT PROVIDED BY ABRF AND THERMO ELECTRON
Jenn Biltcliffe, Roberts Research Institute, Ontario, Canada
Paolo Conrutto, Ludwig Institute for Cancer research, Uppsala, Sweden
Robert Keefe, Wadsworth Center/NYSDOH, Troy, New York
Larry Martin, Northwestern University, Chicago, Illinois
Mike Naldrett, John Innes Centre, Norfolk, United Kingdom
Jessica Prenni, Colorado State University, Fort Collins, CO
Deborah Stabley, A.I. DuPont Hospital of Children, Wilmington, DE
Stanley Stevens, University of Florida, Gainesville, Florida
Travis Young, University of Texas Medical Branch, Galveston, TX

2005 Awardees
SUPPORT PROVIDED BY ABRF AND APPLIED BIOSYSTEMS
Jay Albanese, USDA-ARS Proteomics Center
Tracy Andacht, University of Georgia, Athens, GA
John Asara, Beth Israel Deaconess Medical Center
Leonardo Barragan, University of Missouri, Kansas City, MO
Stela Bermema, Cleveland Clinic Foundation, Cleveland, OH
Andrew Bottrill, John Innes Centre, Norfolk, United Kingdom
Michelle Detwiler, Roswell Park Cancer Institute, Buffalo, NY
Tom Dunkley, Cambridge Center for Proteomics, United Kingdom
Jessica Hoffman, Trudeau Institute, Saranac Lake, NY
Peter Hunziker, Institute of Zurich, Switzerland
Saulius Klimasauskas, Institute of Biotechnology, Lithuania
Kalari Staish Kumar, Osmania University, India
Heather Lin, DigiSapien, LLC
Michelle Meyer, University of Rochester, Rochester, NY
Liisa O'Hara, Michael Smith Labs, Canada
Bhavinkumar Patel, Fox Chase Cancer Center, Philadelphia, PA
Linda Salamone, University of Rochester, Rochester, NY
Stacy Sherrod, Texas A & M University, College Station, TX
Sheng Zhang, Cornell University, Ithaca, NY

2004 Awardees
SUPPORT PROVIDED BY ABRF
Laura Ascroft, University of Rochester, Rochester, NY
Yongde Bao, University of Virginia, Charlottesville, VA
France Dumas, BRI/NRC, Canada
Julia Whynot-Ertelt, Rockefeller University, New York City, NY
Rekha Iyer, University of Rochester, Rochester, NY
Michael Jordan, University of Cincinnati, Cincinnati, OH
George Kampo, University of Rochester, Rochester, NY
Deb McMillen, Eugene, OR
Emmanuelle Nicolas, Fox Chase Cancer Center, Philadelphia, PA
Javad Pashmi, University of Texas Medical Branch, Galveston, TX
Michael Sandoval, University of Southern California, CA
Solange Serrano, Instituto Butanan, Brazil
Wei-Zhen Shen, Cleveland Clinic Foundation, Cleveland, OH
Tara Sigdel, Miami University, Oxford, OH
Jezra Spisak, Cornell University, Ithaca, NY
Viju Varghese, University of Texas M. D. Anderson, Houston, TX
Patricia Veno, University of Missouri-Kansas City, Kansas City, MO
Sarah Warburton, Brigham Young University, Provo, UT
Petra Zuerbig, Fraunhofer Institute of Toxicology and Experimental Medicine, Germany

2003 Awardees
SUPPORT PROVIDED BY ABRF AND APPLIED BIOSYSTEMS
Mariano Alvarez, Fundacion Insituto Leloir, Buenos Aires, Argentina
Marjorie Chow, University of Florida, Gainesville, FL
Jennifer Frenck, A.I. DuPont Hospital of Children, Wilmington, DE
Antonio Greco, University of Calgary, Calgary, Canada
Martha Gunthorpe, UCSF Medical Center, San Francisco, CA
Rebecca Halpin, Cornell University, Ithaca, NY
Talat Haqqi, Cleveland Clinic Foundation, Cleveland, OH
Mikhail Kolonin, MD Anderson Cancer Center, Houston, TX
Hana Konecna, Masaryk University, Czech Republic
Aarti Kumar, University of Southern California, Los Angeles, CA
Larry Martin, Northwestern University, Chicago, IL
Jason Moss, The Scripps Research Institute, La Jolla, CA
Jennifer Nott, UCSF Biomolecular Resource Center, San Francisco, CA
Maria Person, University of Texas at Austin, Austin, TX
Alex Rai, Johns Hopkins University, Baltimore, MD
Chris Richardson, Brigham Young University, Provo, UT
Garry Rucklidge, The Rowett Research Institute, Aberdeen, UK
Puneet Souda, Purdue University, Indianapolis, IN
Olga Stuchlik, Emory University, Atlanta, GA
Sandra Vigil-Cruz, University of Kansas, Lawrence, KS
Zhiping Wu, Cleveland Clinic Foundation, Cleveland, OH
Mingyi Zhou, University of Missouri at Columbia, Columbia, MO

2002 Awardees
SUPPORT PROVIDED BY ABRF AND APPLIED BIOSYSTEMS
Obaid Beg, USA
Sylvie Bourassa, Canada
Gina Browse, United Kingdom
Nancy Caceres, USA
Millie Chan, USA
Karen Edwards, Australia
Isabel Hlede, Canada
Christopher Jecmen, USA
Ingrid Jordan-Thaden, USA
Nancy Leymarie, USA
Michael Mahar, USA
Amy Marrs, USA
Scott McClung, USA
Ronald Niece, USA
Nancy Nutile-McMenemy, USA
Adriana Panciu, USA
Changhong Qiao, USA
Jeanne Rousseau, South Africa
John Shannon, USA
Deborah Stabley, USA
Glenis Wiebe, Germany

2001 Awardees
SUPPORT PROVIDED BY ABRF AND APPLIED BIOSYSTEMS
Christopher Carroll, University of Texas Health Science Center, San Antonio, TX
Alexandra Furtos, National Research Council Canada, Ottawa, Canada
Rebecca Halpin, Cornell University, Ithaca, NY
Talat Haqqi, Cleveland Clinic Foundation, Cleveland, OH
Chris Jenkinson, University of Texas Health Science Center, San Antonio, TX
Alexander Kraev, University of Toronto, Toronto, Canada
Ellen Marie Krueger, University of Missouri, Columbia, MO
Lufs Souto Miranda, Univeridade de Aveiro, Aveiro, Portugal
Christina Raska, University of North Carolina at Chapel Hill, Durham, NC
Igor Rodionov, Institute of Bio-organic Chemistry, Moscow, Russia
Marcello Valle de Sousa, University of Brasilia, Brazil
Shelly Wegener, University of Calgary, Calgary, Canada
Valerie Wasinger, Garvan Institute of Medical Research, Sydney, Australia
Zdenck Voburka, Institute of Organic Chemistry and Biochemistry, Academy of Science, Prague, Czech Republic